Alta Vista which is without a doubt the nicest home on Little Corn Island. This gorgeous colonial home is in a class of its own. Superior construction with high quality materials and the best views on the entire island.
This stately home sits on a mature 1/2 acre lot with lots of mango trees.
***** SOLD *****

priceless views – 3700sqft – 4 bedrooms – 3.5 bathrooms – private – secure
The home is 2400sf of interior living space and 3700sf including patios. There are three patios, a massive rooftop patio with near panoramic views of the island as well as first and second floor patios. Each floor offers views of the Caribbean Sea.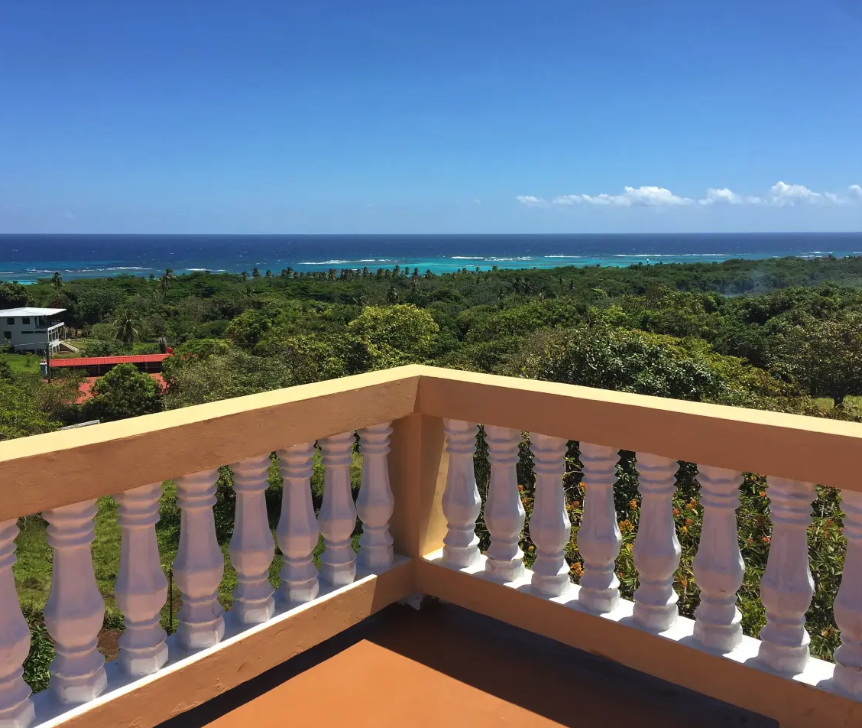 The home is 4 bedrooms, 3.5 bathrooms and includes a solar hot water heater for hot showers. The house comes with three queen beds, dining room table, rocking chairs, everything. This building has 10 foot ceilings is 100% 6″ block and  98%+ 1/2 steel throughout. No expense was spared when building this house.
It looks beautiful on the outside but it's what's inside that counts. This house is built to last for generations. There will never be another home built to this standard or size. It was a feat to even pull this off. There is ~7000 sacks of sand + gravel, 1000+ sacks of cement and 3200+ 6″ concrete blocks. The steel is all 1/2″ and endless bundles.
This property is a dream winter home, proven vacation rental and built to last. It's a unique piece of real estate and also has a data tower on the roof. Getting internet access was DIFFICULT  and EXPENSIVE until I brokered a deal with a telco company.
As a result, you've got the fastest internet on the island and it's free – 5mbps which is more than most restaurants. Deal is intact as long as the tower stays on the property.
If you want the tower gone, it can be removed but I wouldn't recommend it.
Head over to Youtube to view the ENTIRE construction of the house.
Search "Little Corn Alta Vista" and you'll find endless videos.
Below is an update I made not long before I left traveling again. Pardon the poor quality video, especially in lower light, the camera had taken a spill or two.
If you're serious, email me here.